Mobile Tire Sales and On Site Installation
Truck Tires from Tires To You – Easy & Convenient
When you need new tires for a truck, SUV, RV or specialty vehicle, don't waste your time going to a traditional tire shop – call Tires To You in Hillsboro, Oregon. You've got better things to do that sit in a waiting area as your new truck tires are being installed. Tires To You comes to your home or office so you can make the most of your time while we install your brand new tires. Don't take time off work, don't lose your lunch hour and definitely don't waste your day off! Let Tires To You come to your location and install your new truck tires while you go on about your day!

Ready to book an appointment? Call now, we'll get you on our schedule and get your truck set with new tires!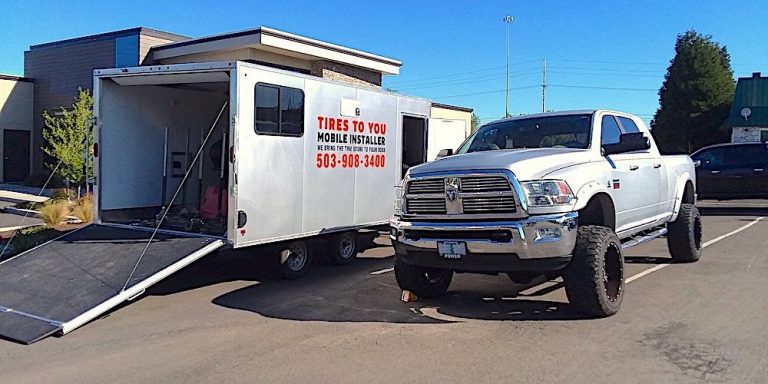 Call 503-908-3400 to learn more about the ease and convenience of getting your new truck tires from Tires To You.
Top-Quality Truck Tires for Hillsboro, Beaverton & Beyond
When you need to get the job done, your powerful truck is only as good as your tires. And when you need the best new tires for a truck, turn to Tires to You. With our mobile tire shop serving Hillsboro and Beaverton, our team of expert technicians can get your truck fitted with just the right new tires you need for confident traction with maximum hauling and towing capability. If you're looking for a discount tire as a replacement without compromising on quality for your truck, our mobile tire sales and installation service covers the Hillsboro/Beaverton area and is ready to meet your needs. Whether you have us come to your home or office, you'll be happy with the results from Tires To You.
The Importance of Quality New Tires from Tires To You
You count on your truck to haul important supplies and to tow heavy loads on a regular basis, putting your truck's tires to the test day in and day out. The last thing you want is for your tires to fail you when you need them most. Your truck may have a solid frame and tons of power under the hood, but you'll be going nowhere if you don't have tough tires you can rely on. Not only are you at risk of falling behind on your work schedule if you get a flat tire, but can end up in an unsafe situation if your tire goes bad on the road.

Having a capable pickup truck with four-wheel drive is also a great way to escape out into the wild for some off-road fun. But if your tires are in poor shape, you may end up getting stuck in the worst place possible.

Beyond the safety risks of having your tires go flat, choosing the wrong tires or waiting too long to replace your tires can diminish your overall driving experience. You may have to turn back where you could have kept on going in your truck if your tires aren't up for the challenge. Or, you could have to make some extra trips if your tires can't get enough traction to tow your trailer. When you need new tires for optimal performance, choose our on-site or mobile tire service in Hillsboro and Beaverton.
Here at Tires to You, you can find the best quality tires for sale for a wide range of truck models and sizes. In addition to standard tires, we offer a wide range of studded tires and all-terrain tires to allow you to make the most of your all-wheel drive or four-wheel drive truck. You can find reliable and high-quality tires that will perform amazingly on your truck from top brands like BFGoodrich, Michelin, Goodyear, Cooper, Firestone, and much more!
When you contact our mobile tire shop, our friendly team will set your appointment for a time and location that works best within your busy schedule. Our experienced team of experts will quickly install new tires for your truck so you can get on your way and enjoy the full potential of your powerful driving machine.
Contact us today at 503-908-3400 to get a free quote for your tire needs and to book an appointment.