Mobile Tire Sales and On Site Installation
Tires To You – Easy, Convenient & Affordable!
Tires To You makes getting new tires for your car, truck, SUV or specialty vehicle simple, easy, convenient and affordable! One of the biggest challenges for customers wanting new tires is finding the time to get to a tire shop in Hillsboro, Beaverton or the surrounding areas. Taking time off work can be inconvenient for some and not an option for others. And no one wants to spend their Saturday or Sunday without their vehicle or sitting in a tire shop. But what if the tire shop came to you, on your schedule?

That's the Tires To You difference. Our mobile tire shop will come to your home or office when it's convenient for you. We offer on-site tire sales, installation, repair and replacement. And with our competitive prices, you'll be amazed at just how affordable it is to bypass the tire store and have Tires To You come to your location at a time that works best for you. If you're looking for discount tires, let our mobile tire sales and installation team offer you a complimentary estimate – you'll be amazed at just how affordable our easy and convenient process really is.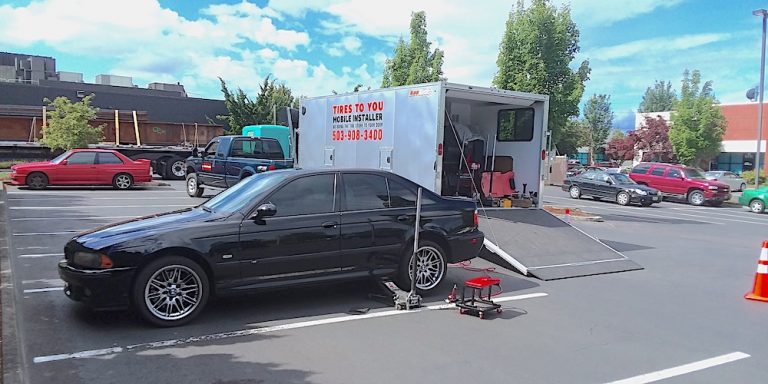 To learn more, inquire about inventory and availability or to schedule your service, call Tires To You at 503-908-3400 now!
New Tires for Sale from Tires to You
Here at Tires to You, we only trust the most trusted products from the best manufacturers and offer high-quality tires for your car. Some of the tire brands we offer include BFGoodrich, Goodyear, Firestone, Michelin, Cooper, Bridgestone, and much more. We can get new tires quickly fitted to your vehicle at a location that works for you with our mobile tire sales and installation services. Contact us today at 503-908-3400 to get a free quote and to set up your appointment.
High-Quality Replacement Tires in Hillsboro & Beaverton
Your ability to maintain proper traction for safe driving relies on having the right tires on your vehicle. Here at Tires to You, you can trust our "mobile tire shop" for affordable tire replacement and top-quality tire maintenance for a wide range of vehicles, including cars, trucks, SUVs, RVs, even golf carts and lawn mowers. We understand just how stressful having problems with your tires can be and your need for quick, quality tire replacement. Our team of experts offers more than just the best new tires for sale at great prices, we offer convenient scheduling and delivery that works around you busy schedule. We are dedicated to great service from start to finish and to getting you results you will be happy with.
How to Tell if You Need New Tires
Getting a flat tire is definitely an obvious sign that your tires need to be replaced, but we sure hope you don't end up in that situation. Not only is heaving a sudden flat tire on the road a massive headache to deal with, but it can also create a safety hazard for you and other drivers. By getting your tires replaced on time, you can avoid this problem much of the time.

Of course, your tires can also become a safety issue even if they don't go flat. The tread on your tires allows you to confidently grip the road in both dry and wet weather, which is crucial for driving in the Pacific Northwest. You could find yourself sliding during turns or stops that would normally be considered safe speeds of your tread is getting too low. A good way to see if your tire tread is getting too low is to try the old quarter test. If you stick a quarter upside down into your tire tread and see the top of George's head, your tread is likely too low. If that's the case, make your way over to our tire shop in Portland for quick and reliable tire replacement. Or, call us up and set up an appointment where our mobile tire services can meet you.
Even if your tread is at a good depth, there could be a hole that's keeping your tires from staying at the right air pressure. If you notice that you have to do fill after fill to keep your tire pressure at the recommended level, it's likely a sign you need expert tire repair or new tires altogether.

All of these situations can compromise your safety on the road while also diminishing your driving experience and your fuel efficiency. When you trust Tires to You, your vehicle will be ready to perform at its best.
Call Tires To You at 503-908-3400 to schedule your appointment or to learn more about our mobile tire services.