Mobile Tire Sales and On Site Installation
MOBILE TRUCK TIRES SERVICES IN HILLSBORO, OREGON
EASY, CONVENIENT & AFFORDABLE
Looking for truck tires Hillsboro? If you're in need of new tires for a truck, SUV, RV or specialty vehicle in Hillsboro, why waste time sitting in a tire store or tire shop? Call Hillsboro's mobile tire service, Tires To You. We're the tire service that comes to you! We know your time is valuable. Our innovative mobile tire service allows you to use your time effectively while we install your new truck tires. Gone are the days of sitting in the waiting room of a discount tire shop before or after work, on your lunch break or worse – on your weekend or day off. Tires To You comes to you on your time, around your schedule.

Whether it's your home, office or other location within our service area, Tires To You makes getting top-quality, new tires for your truck easy, convenient and affordable by bringing the tire shop to you!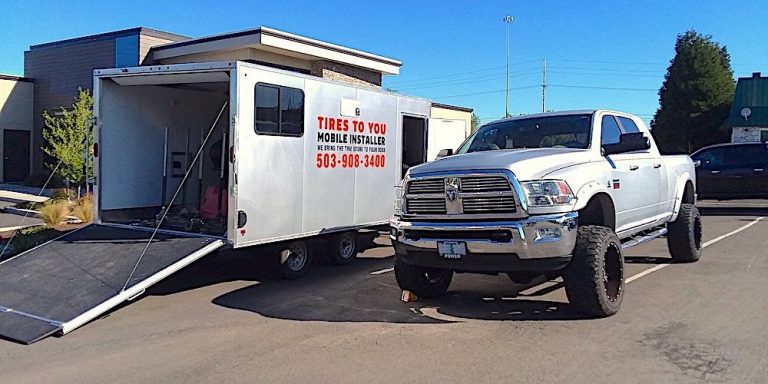 CALL 503-908-3400 TO LEARN MORE ABOUT THE EASE AND CONVENIENCE OF GETTING YOUR NEW TRUCK TIRES FROM TIRES TO YOU.
TOP-QUALITY NEW TRUCK TIRES IN HILLSBORO, OREGON
Truck owners demand a lot more from their truck than most car owners do with their cars. So if you're looking for the best new tires for a truck, reach out to Tires to You. Our mobile tire shop based in Hillsboro and our team of expert technicians can install new or replacement tires on your truck at a place and time that works best for you. And with Tires To You, you won't have to settle for a discount tire as our standard pricing is highly competitive. Since we don't have a massive brick and mortar building, our Hillsboro mobile tire service can offer the same high quality tires as our competition at far better prices.
THE IMPORTANCE OF BUYING HIGH QUALITY TIRES FOR YOUR TRUCK
You put your truck's tires to the test daily by towing heavy loads, covering tough terrain and hauling crucial supplies. You can't afford the down time of a worn out or substandard tire blowing out. Worn or low quality tires don't just present safety risks, they can also diminish the performance and fuel economy of your truck, which can cost you money. Even a new truck off the lot might not have the type of tires you need for your line of work. Talk to Tires To You about the right truck tires for the work you do. Durability and affordability go hand in hand with our on-site or mobile tire service in Hillsboro, Oregon.
WHY CHOOSE TIRES TO YOU FOR TRUCK TIRES IN HILLSBORO, OR?
Just like the big chains and local tire stores, Tires To You offers all the best brands of truck tires. We sell and install BFGoodrich, Michelin, Goodyear, Cooper, Firestone, and many other top tire brands! Looking for specialty tires, all-terrain tires or studded tires for your truck? Tires To You has you covered. We love handling special orders. If you're looking to customize your truck, give us a call and we'll get you set up with new truck tires that look as good as they perform.
Working with Tires To You couldn't be simpler. You book us and we come to you – no waiting in a shop with bad coffee, old magazines and a TV with nothing worth watching. At Tires To You, our Hillsboro mobile truck tire service makes getting the perfect tires for your truck easy, convenient and affordable. Ready for new truck tires Hillsboro? Call Tires To You today!
Contact us today at 503-908-3400 to get a free quote for your tire needs and to book an appointment.