Mobile Tire Sales and On Site Installation
TIRES TO YOU HILLSBORO, OREGON EASY, CONVENIENT & AFFORDABLE!
When you are searching for a tire shop in Hillsboro, Oregon you may start thinking about how much time it takes to go to a tire shop and get new tires. But with the technology we have available today why can't the tire shop come to you? That's where our Hillsboro mobile tire shop, Tires To You, comes in. We take the hassle out of needing to take time off of work, or time out of your weekend, with on-site tire sales, installation, repair and replacement throughout Hillsboro. Our Hillsboro mobile tire sales and installation team will come directly to your location, and at a time that is convenient for you. Our goal is to take the stress out of finding affordable new tires and allow you to enjoy the extra time you have by not sitting in a waiting room for your tires to be fixed or changed.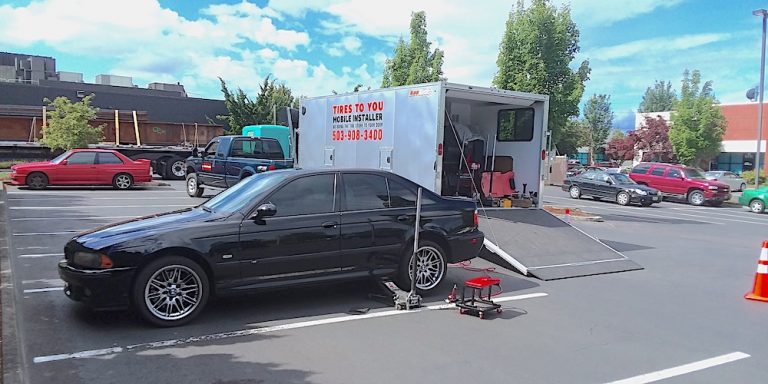 To learn more, inquire about inventory and availability or to schedule your service, call Tires To You at 503-908-3400 now!
HILLSBORO NEW TIRES FOR SALE FROM TIRES TO YOU
The safety of your vehicle starts where the rubber meets the road. Making sure you have the proper traction can mean the difference between a close call and a bad accident. That is why at Tires To You we sell only the most trusted products from the highest rated suppliers. We carry national brands like BFGoodrich, Goodyear, Firestone, Michelin, Cooper, Bridgestone and more. Plus, we offer many more lesser known brands to fit any budget. We can get your new tires fitted quickly and correctly at any location that is convenient for you. Call Our mobile tire sales and installation services team today at 503-908-3400 to get a free quote or to book your appointment with Tires To You.
HIGH-QUALITY REPLACEMENT TIRES HILLSBORO, OREGON
Keep Tires To You in mind next time you are searching the web for "Hillsboro mobile tire shops" for affordable tire replacement and top-quality tire maintenance in and around Hillsboro, Oregon. We have tires for a wide range of vehicles including cars, trucks, SUVs, RVs, even golf carts and lawn mowers. We can offer nearly every brand of tire on the market and we're happy to do special orders for our valued customers. Wee understand how stressful tire problems can be, that's why we're dedicated to great service from start to finish. Our goal is to take the stress out of an already stressful situation.
DETERMINING WHEN YOU NEED NEW TIRES
There are many factors that could mean you need a set of replacement tires. It is not always an emergency but knowing some of the warning signs can help you budget for your new tires. Watch for these simple things while driving, and be sure to check your tread depth every 4 months. Tread Wear – With good tread, your car will drive better. The ride will be smooth, stopping will happen with less pressure on the breaks and even in wet conditions they will help to keep you safe. Be sure to check the tread wear to see that it is happening evenly throughout your tires and that you have a safe amount of tread.

In order to check your tread depth, grab a penny. Put the penny in the valley of your tires tread. If you can see all of Lincolns head, it is time for new tires. If you cannot see his hair or forehead, your tires are safe. Be sure to check in multiple spots, uneven tire wear can mean a larger problem with your car's alignment.
Call Tires To You at 503-908-3400 to schedule your appointment or to learn more about our mobile tire services.